I have the cutest little niece. My sister always has her in matching hair bows and headbands. My niece just looks so adorable all dressed up with her little accessorizes. Haha! And, of course, if you are an aunt to a cute little girl, you probably know how tempting it is to buy every cute item in a store.
Imagine how excited we were when our cousin started creating super cute bows! If you have a young daughter, check out  http://www.frizzies.etsy.com for some adorable, handmade hair accessories. She's been selling  the bows at craft shows but has just started selling online. Mention that you saw this blog.  🙂 She's having a summer sale now by the way!!!
Check out the bow that I just bought for my niece. 🙂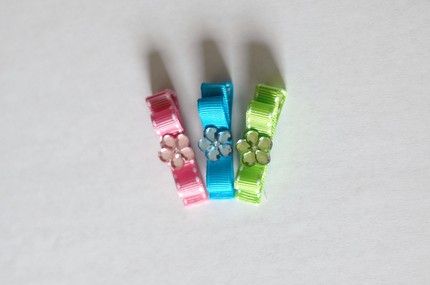 And how adorable are these!?